More space inside. Same width outside.
SpaceMax™ Technology
Store more food with this SpaceMax™ refrigerator's spacious 617 litre interior. Its unique SpaceMax™ technology enables the walls to be much thinner whilst still ensuring optimal insulation, creating more storage space without increasing the external dimensions.
Last longer with up to 50% energy saving1
Digital Inverter
Samsung Digital Inverter Compressor lasts longer while saving energy up to 50%1. Unlike conventional compressors, our Digital Inverter Compressor automatically adjusts the compressor speed in response to cooling demand, thus using less energy, while minimising noise and reducing wear and tear for a longer-lasting performance2. Samsung also stands behind the durability of its Digital Inverter Compressor by providing a 10-year warranty3.
1 Based on internal testing comparing energy consumption (ISO 15502) between RT43K6**5(6)** (Samsung Digital Inverter Compressor model) and RT54E**** (Samsung conventional model); individual results may vary.
2Awarded a 21-year durability certification by the Association for Electrical, Electronic & Information Technologies in Germany (Verband Deutscher Elektrotechniker – VDE).
310-year warranty is limited to the compressor only.
Cools every corner evenly
All-around Cooling System
The All-around Cooling system continually monitors any temperature fluctuation and cools the fridge evenly from corner to corner. Cold air is emitted through multiple vents on every shelf level to create a multi-directional airflow, so that a constant temperature is maintained and food stays fresh longer.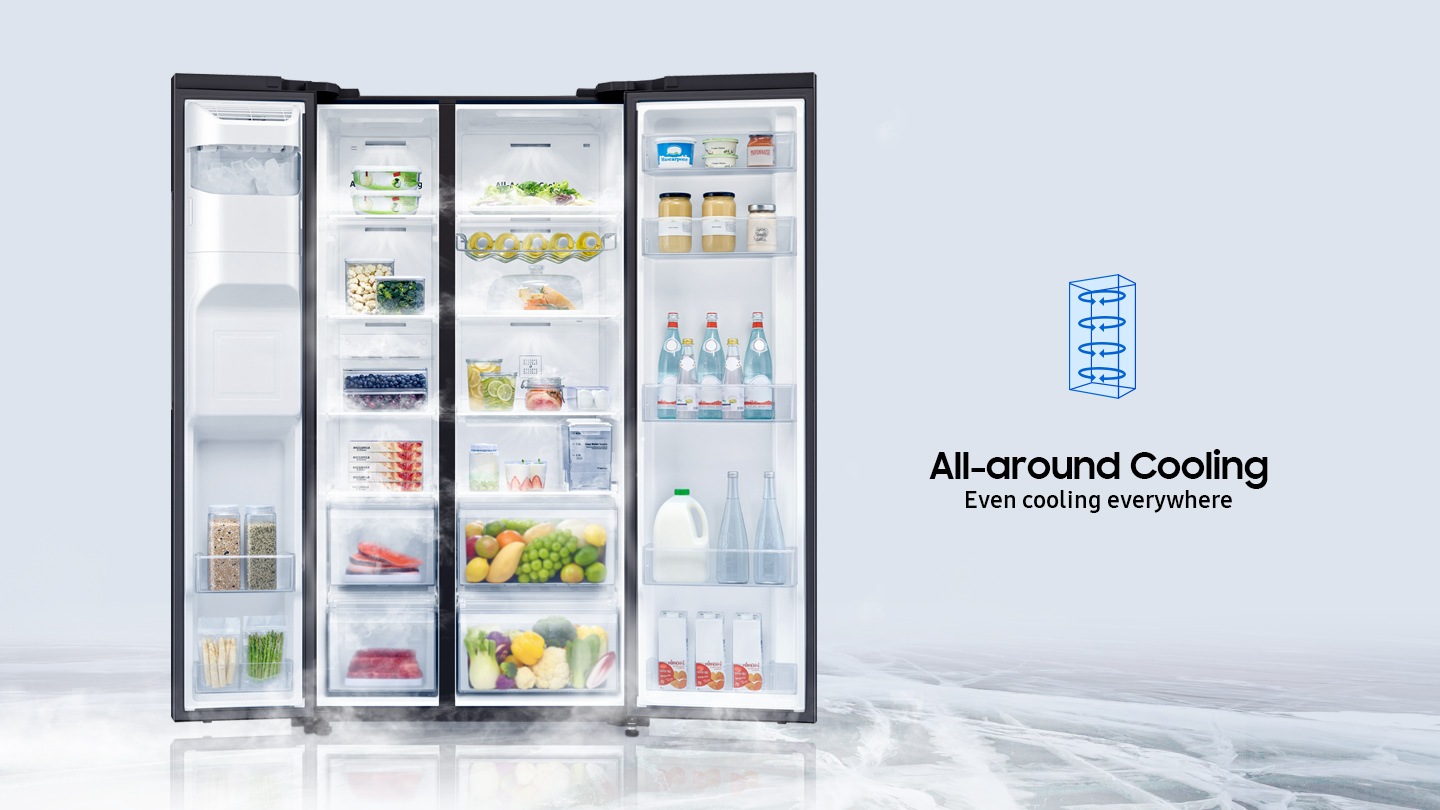 Minimalist and Sleek Design
Flat Doors & Recessed Handles
Give your kitchen a sleek and minimalist look with the stylish counter depth design and beautiful flat doors with recessed handles that blend seamlessly with your kitchen for a completely harmonious look.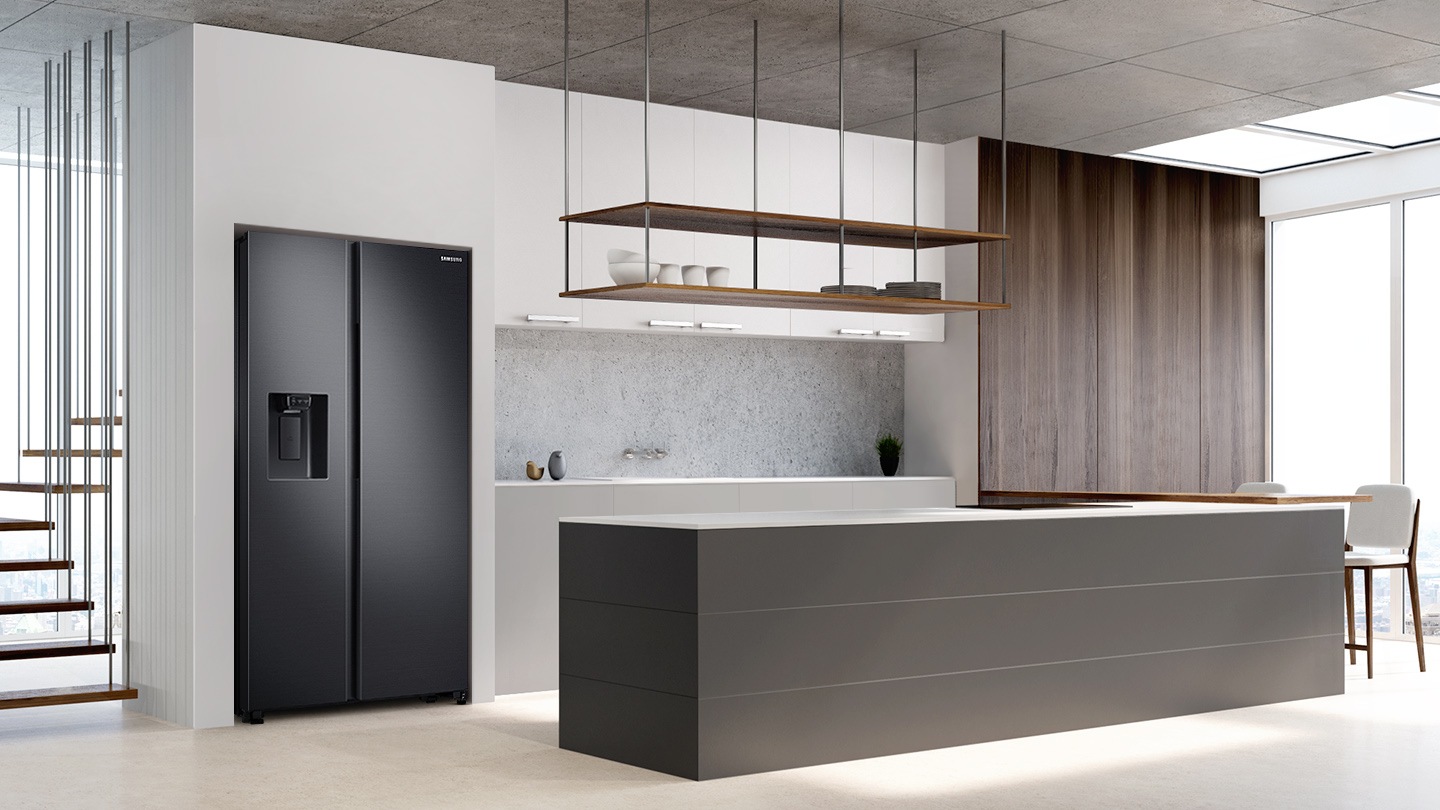 Fast cooling and freezing on demand
Power Cool / Power Freeze
Freeze or chill your food rapidly with the Power Freeze and Power Cool options, all done with a simple push of a button. Ideal for chilling your favorite drinks or firming up ice cream in a flash.
Install Anywhere
Non-plumb Dispenser
Easily install the refrigerator anywhere without worrying about time-consuming plumbing or untidy pipes. The refrigerator also comes with a large water tank for its Non-plumbing Ice & Water Dispenser, which does not require a water filter. Enjoy chilled and fresh water without the need to change the water filter, saving you time and money.
More Freezer space
Auto Ice Maker
The Auto Ice Maker gives you extra storage space by freeing up freezer shelf space while allowing you to automatically make, store and enjoy ice at your convenience. Its compact design also frees up extra storage space for food, without compromising on the amount of ice produced.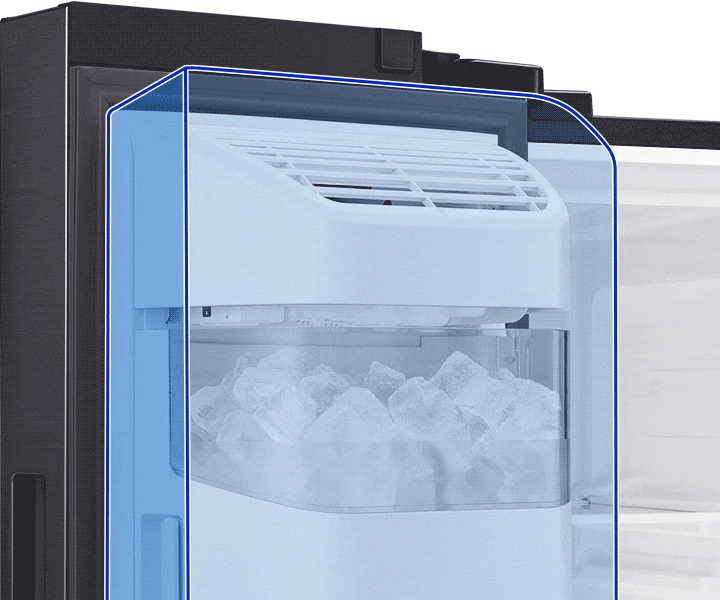 Maintain the flavour of your food
Deodorising Filter
The built-in natural-fiber Deodorising Filter eliminates strong smells by passing air through an activated carbon filter, keeping the air inside your fridge clean while preserving the original flavour and aroma of food.
Easily store your vegetables and fruits
Vege Box
A large capacity Vege Box provides a convenient space to store a large amount of fresh vegetables and fruits. And because it's so big, it's so much easier to find everything – the all-in-one place to access your vegetables or fruits at one glance.
Samsung Side by Side Refrigerator (617L, RS64R5304B4S) with Vege Box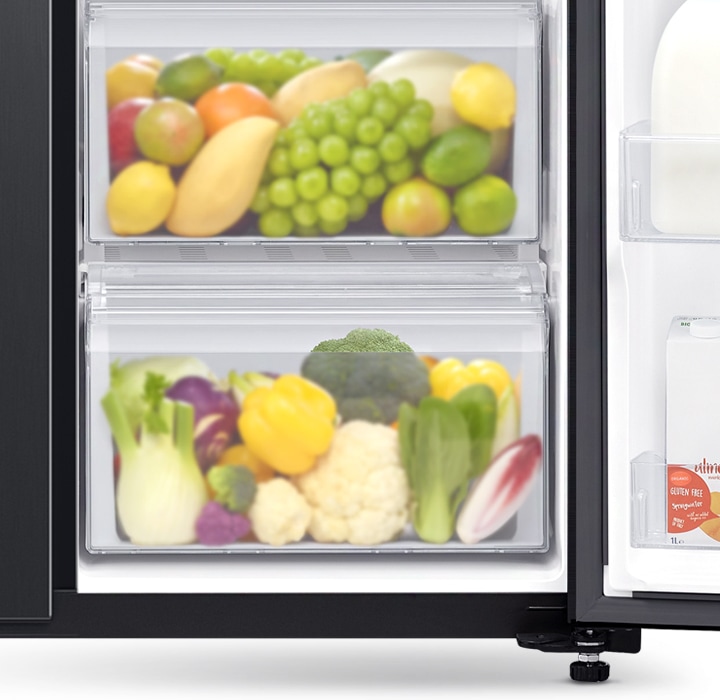 Specifications
Cooling Type –

All-around Cooling

Number of Shelf (Total) –

4 EA

Energy Efficiency (NEA) –

2 Ticks